Vibroflex-K15
Brand:
Acoustic Group
Vibroflex-К15 is a vibration isolating hanger for the ceilings, designed for use in suspended ceiling constructions with double gypsum boards on metall profiles. Due to the use of a special material Sylodin as antivibration element, the passage of sound vibrations significantly reduces to the front surface of the sound insulating construction. Thus, the additional sound insulation of the whole system increases significantly.
Vibrofleks-K15 is designed to remove or significantly reduce the level of vibrations transmitted from the ceiling construction through the joints to the surface of suspended ceiling. It is a straight metal suspension, which carries the whole construction of the suspended ceiling system. Vibrofleks-K15 hanger can carry a load of 15 kg. There should be at least 3 hangers (averaged 2.7) per square meter of suspended ceiling construction, made of double gypsum boards.
Field of use
Vibrofleks-K15 is indispensable during the installation of the soundproof suspended ceilings with double gypsum boards on metal profile. It works most effectively damping the low-frequency vibrations.
Advantages
Anodized metal parts;

High level of vibration insulation (up to 20 dB at specific frequencies);
Very long period of preservation of vibro-acoustic properties (over 30 years)..
Technical properties
The graph shows the results of sound insulation measurements of reinforced concrete slab construction with sound-proof suspended ceiling.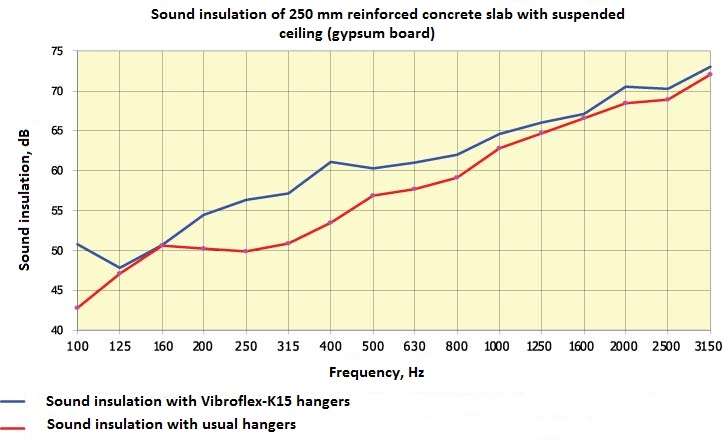 Measurements were performed for two types of suspended ceilings:
1. With usual metal hangers (rigid attachment);
2. With Vibroflex-K15 anti-vibration hangers.
Kirjuta ülevaade
Teie nimi:
Teie ülevaade:
Note:

HTML is not translated!
Hinnang:
Halb
Hea
Sisesta kood allolevasse kasti: